Hello, my dear readers! How are you doing? Myself, I've been doing quite fine. It basically means that I've been obsessing over things and daydreaming a lot more than I should.  Nothing better than that in my dictionary, so no worries! Today I would like to introduce you my latest TV show crush! I know, I have lots of crushes, but shhh… each and every of them is my one and only… for an hour or two. 😉  Coming straight to the point: I have a pleasure to introduce you to "The Magicians".  Don't walk away please, I want you to become friends… Will you take this chance? 3, 2, 1…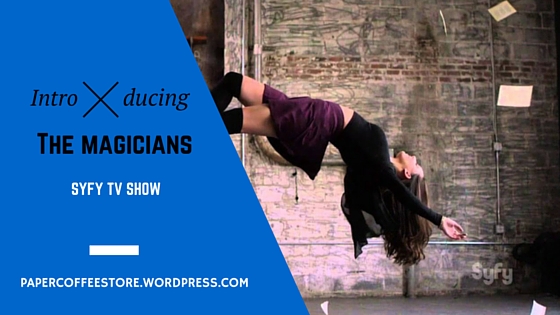 First things first – "The Magicians"  is a Syfy TV show, which premiered on 25th January 2016. It is based on Lev Grossman's book under the same title, and its TV creators are Sera Gamble and John McNamara. It is definitely classified as a fantasy TV show, as it is full of magic. The plot revolves around the group of young adults, who happen to enter the world of magic. The main character – Quentin is an introverted young man, who is obsessed with the books about the magical land of Fillory. He is often depressed and doesn't fit with his peers quite well. His childhood friend Julia doesn't seem to hold onto childhood fantasies as much as Quentin and they are slowly drifting apart, as they're getting older. Everything changes when they take an entry exam in the REAL MAGIC SCHOOL – The Brakebills. While Quentin gets accepted, Julia doesn't have as much luck. Their magical journey begins – different for each of them, but equally interesting and dangerous. You can see for yourself what they have in store for you in the trailer below!
Putting characters on the map
Characters can make or break a good storyline. How's it with "the Magicians"? First, we have Quentin (played by Jason Ralph) . Let me say that as a geeky outsider, I can totally relate to him. He's painfully introverted and awkward, and can get so annoying and extra sometimes that I can admit he's 100% human. Even 150% human at times!
Some of other main characters would be obviously Quentin's friend – Julia (Stella Maeve) . She's ambitious and confident but gets a bit lost in who she is and what she wants, as many young adults do. Nevertheless, she never shies away from a challenge. She faces it and does her thing anyway. She's not perfect, but she has her moments, and as you can probably say, I like her quite a lot.
The number one hilarious boy of Brakebills  is definitely  Penny (Arjun Gupta). He mostly doesn't care about anything and anyone, with a few exceptions. He's a master at ironic comments, shutting Quentin down and being totally bitchy, yet likeable. Whose team I'm in? Penny's!
Then we have Alice (Olivia Taylor Dudley)... At first glance, she's your typical perfect girl. Best grades? Checked. Can be never seen looking messy? Checked. Ambitious and never does anything reckless? Checked. At first glance, of course, because she has her own problems and can be witty and funny with her know-it-all attitude, especially when she gets drunk!
Last, but not least: Margo and Elliot. They're a BFF duo everyone wants to be in. Seriously, they are fun to be around and have lots of hilarious moments together. BFF goals anyone? Maybe a bit!
Summing up – each and every character seems to be quite relatable. Characters in "The Magicians"  mess up all the time. They are mostly funny, rarely completely boring and their interactions are mostly hilarious. Real talk here.
VERDICT: HIT OR MISS?
The show's definitely not perfect. Sometimes it's boring and actors do less than their best. Sometimes it's just ridiculous. It is also full of sex scenes and cursing, so at best it's like Harry Potter… for adults. Nevertheless, it's also hilarious and quotable. Every episode has its own golden lines that get me laughing. Sadly the show is still not wildly popular, so there's a serious shortage of gifs to prove my point.  All in all, I would definitely recommend you to watch this show if you're okay with nudity and don't mind disturbing scenes. Once you enter the Brakebills you might want to stay there! 
That would be all for today. Thanks for reading! You're absolutely amazing. If you want to stay connected with me don't forget to follow me on Instagram – @papercoffeestore (I post a lot,  shout out to my fellow Instagram addicts! ❤ ), Facebook  and Twitter. It would be awesome if you did! 🙂
What is your favourite TV show? Have you started watching any new TV shows lately? I would love to know, so let me know in comments, please!
Have a lovely day,
Jessie