Hello, guys! How are you doing? Myself, I feel like I've been spinning around like a plastic ball, and sometimes it makes me feel happy, and sometimes… not happy at all. When things like that happen I take a step back and reflect on everything I've ever done. No better way to do it than with a book or a movie. This time, I chose a movie. "Joy" was on my to-watch-list for such a long time. Two reasons: a) I really like Jennifer Lawrence b) I like movies about inspiring people even more. "Joy" met both of my demands, so I traded two hours of my life to watch it. Was it a good idea? I think so. First things first, though…
What is "Joy" about?
The first thing that comes to my mind is "persistence". Why so? The entire story is built on the main character's persistence in fighting for what she wants. Her name's Joy (played by Jennifer Lawrence), and she works for an Airline to make ends meet. She's a divorced mother of two, and her house situation is far from perfect. Her parents Terry (played by Virginia Madsen) and Rudy ( played by Robert De Niro) are a bit dysfunctional, her ex-husband (played by Edgar Ramirez) still lives in her basement, and the only person who believes in her potential is her grandma (played by Diane Ladd). What's Joy's potential? She loves to create things. From the scratch, what makes her an inventor. As she comes up with a brilliant idea and decides to fight for her dreams we watch her journey, which happens to be full of complications, treachery, jealousy, but also hope. We meet a marketing genius Neil (played by Bradley Cooper), and a truly supportive friend everybody needs Trudie ( played by Dascha Polanco). In a process, we're also shown how complicated a definition of success and the road to the success itself can be.
What is so special about the movie?
One word: nothing. It is not a groundbreaking masterpiece, which we'll be quoting in 30 years. At least, it doesn't feel like one. Does it mean it was bad, or not worthy of watching? No. That's why my second question comes in: what's cute about the movie? Everything. The movie might not be brilliant, but it's a great thing to watch. Full of hilarious dialogues, inspiring quotes, and a nice scenery. It doesn't feel too slow, and everything comes together perfectly. The cast was well-chosen, especially Lawrence. I believe she captured the spirit of somebody who finally found the purpose again perfectly. The story itself seems typical, one of many success stories, but it is actually an advantage. You can google Joy Mangano and her first commercial, and everything feels more authentic. "Joy" is definitely not the best movie of 2015, even though its director David O. Russell did a good job. It is, however, a nice movie for a winter evening, especially when we start to doubt ourselves. I would definitely recommend you to give it a try. I did, and I don't regret it even a little bit. My favorite quote wasn't even included in a movie (if I can remember correctly; it was definitely used in its trailer.), but I thought it was perfectly accurate, so here it is: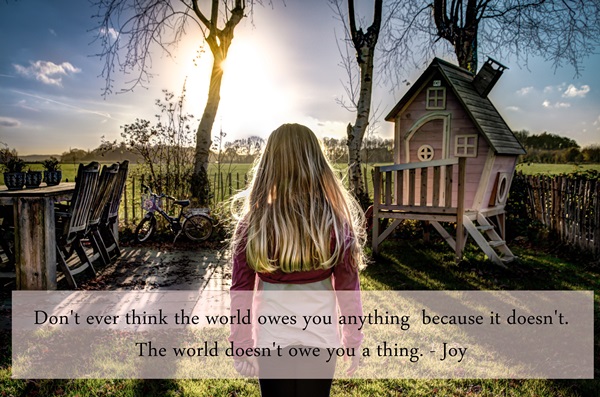 If you want something you have to work for it. Work hard. The world doesn't owe you anything.  Sometimes it's easy to forget about it, but it's true. Let's work for what we're dreaming of. There's no other way.
That would be all for today. I hope you're doing fine wherever you are, and whatever you are doing. May force be with you!
Yours truly,
Jessie